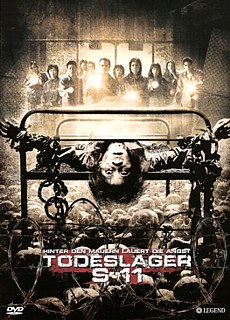 GHOST GAME
(La-Tha-Pii)
Thailand/2006
Genre: Horror
Synopsis:
In a disused prison camp where thousands of innocent victims were once brutally murdered, the most extreme reality TV show ever devised is about to go on air.
11 contestants only have to survive one night within its chilling and blood-stained walls to walk away with a fortune. But little do they know their presence will release the tormented souls of the murdered who are determined to seek indiscriminate vengeance on those still living. As an entire nation watches on, the contrived 'tasks' set by the TV producers soon take on a life of their own and the contestants realise they face a terrifying supernatural battle to survive.
I have seen better films.
But I've also seen worse. okay, maybe my opinion doesn't count in this case for I was drunk and bored when I saw the movie but: Eh.
It was some sort of "Big brother goes Horror." Reminded a bit of SCARED (though SCARED was MUCH better and way more cool and stuff) and
RED ROOM for the question is: What will you do for money? How far will you go?
What I also liked was that it wasn't one of those "Innocent girl gets killed and her spirit seeks revenge"- movies. It was more the HAUNTED HILL stuff.
I didn't like the actors. They were all a bit to...I dunno. Their characters were pretty boring, and I sat there: "Come on, die. You're boring" No sympathy for them, sorry.
AND I just CAN'T cope with a movie that deals with reality TV. Gawd, how I HATE reality TV. Seriously, get a life.
I'm not going to say I liked this movie very much, but if you have nothing better to do and all other movies are already gone - it's watchable.
(when you're drunk)
Eh. Trailer and stuff.
Oh by the way I just had an awesome idea:
Why not change the setting to Germany and the prison to a concentration camp, and it's haunted by the ghost of HITLER HIMSELF?!?!?!?!?